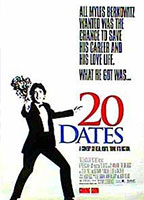 This pseudo-documentary is a romantic comedy featuring divorced L.A. bachelor Myles. Desirous of a film career and a successful love life, Myles decides to do both at the same time. His plot includes going on 20 dates and filming each in hopes of spotting true love in front of a camera. With a shady investor, Elie, shoveling out the $60,000 needed to launch the project, Myles begins his "date-a-mentary", though some of his dates are not aware of their being filmed. Meanwhile Elie stars to make demands on the project's content though Myles want to keep it "real". Along the way the beautiful Elisabeth enters the pictures and appears promising. Can Myles satisfy his investor, spark a true love interest, and complete his project without compromising his morals or one or all of his goals?
Written and directed by Myles Berkowitz.
The cast includes: Myles Berkowitz, Elisabeth Wagner, Richard Arlook, with Tia Carrere.
Tagline: "All Myles Berkowitz wanted was a chance to save his career and his love life. What he got was… 20 Dates" " A comedy so real you'll think it's fiction."
---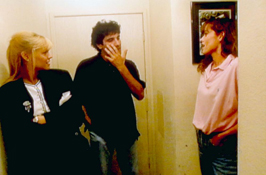 A young film maker, Myles Berkowitz (playing himself) decides to make a documentary on finding true love by secretly filming 20 of his personal dates. It is described as "A laugh-out-loud hunt for a girlfriend." What he didn't envision with this plan, however, were all the problems of trying to mix personal business with the business of movie making. This plan runs into problems with the girls he dates, his filming crew, and his shady, potty-mouthed financier (Elie Samaha), as well as the other normal problems associated with dating; finding the girls to date, asking the girls out, what to do on your date, and deciding if you two are right for each other.
Then, another unexpected problem that surfaced was what do you do when you find the "right" girl, Elizabeth (Elisabeth Wagner), and you haven't filmed all 20 dates yet?? And, how do you tap dance around the fact that you have to have a date with a playboy playmate, and Tia Carrere (plays herself) in order to get the rest of your production money, to finish your film?
This unique, comical gem is the result of a well written script, by Myles Berkowitz, that gives the audience a story that is "Absolutely Hilarious!" – (Michael Medved), and "Extraordinarily Entertaining!" – (Daily News).
The direction, also by Myles Berkowitz, makes sure that the comic timing is right on the mark, and the cast works well together to create a humorous look at the art of dating, and the trials of independent movie making as well, and what happens when you mix the two.
Elie Samaha, who provides the voice of the shady producer, one step ahead of the law, really is Chairman/CEO of Franchise Pictures, a very successful, above board production company that will finance and distribute over 20 films this year. In fact, he was the executive producer of this film.
Tia Carrere, in real life, was married to Elie Samaha when this film was made. She was an executive producer as well.
20 DATES is sure to entertain anyone who has ever been a participant in the dating scene. Rated R – Not for children under 17. (some strong language, and brief sexual images)
If you enjoyed 20 DATES, you may like PLAY IT AGAIN SAM, ANNIE HALL, WHEN HARRY MET SALLY, and/or SLEEPLESS IN SEATTLE.