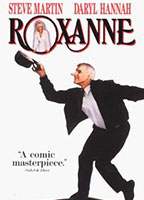 A modern day adaptation of Edmond Rostands "Cyrano De Bergerac," the film features notorious fire chief C.D. Bales: the man with the large proboscis (nose). Bales hires a new firefighter, Chris, who is, despite his deftness with a hose, all thumbs when it comes to women. When a sexy astronomer moves into town Chris immediately falls for her, though he doesn't quite have the "skills" to make the match work. Asking the charismatic C.D. Bales to assist his efforts, the last thing Chris is expecting is for Bales to have a personal motive of his own with all his suave wooing.
Director Fred Schepisi's "Roxanne" is a sweet, delightful romantic comedy.
Written by: Edmond Rostand (play), Steve Martin (screenplay).
The cast includes: Steve Martin, Daryl Hannah, Rick Rossovich, Shelley Duvall, John Kapelos, Fred Willard, Max Alexander, Michael J. Pollard, Damon Wayans, Matt Lattanzi, and Kevin Nealon.
Tagline: "Roxanne dreamed of a handsome, intelligent, romantic man. C.D. Bales is two out of three… but looks aren't everything!"
---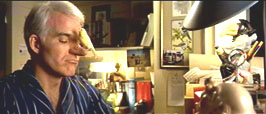 The script is a clever update of the classic, 17th century French play, "Cyrano de Bergerac." The basic story takes place in the small Colorado town of Nelson and involves the fire chief, Charlie "C.D." Bales, who was blessed with a huge nose and has learned to live with his abnormality, making a good life for himself. His wit, verbal ability and a can do attitude have allowed him to go far in all areas except his love life. This time when he falls for the beautiful Roxanne, he hopes that this time it might be different for him, or at the very least his letters will bring happiness for two people he likes.
C.D. Bales first meets Roxanne when she accidentally locks herself out of her rented house. Being naked, she has to hide in the bushes outside the firehouse while she asks Bales for help. After a funny sequence, Bales opens her house for her, and they become friends, as she appreciates his great personality, his wit and his smarts. While he would like it to be more than a friendship, he instinctively knows that she would never be able to get past his long nose.
Besides having a difficult time with women because of his looks, he does have other annoyances. His fire department is manned by 7 volunteer firemen, not exactly a crack squad. Luckily, there aren't many fires, just things like cats stuck in trees.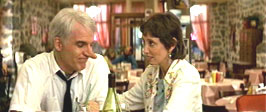 When a very good-looking fireman by the name of Chris McConnell (Rick Rossovich) comes on board, his department improves, but the hunky Chris complicates things when he and Roxanne are physically attracted to each other. Roxanne asks Charlie to help her meet Chris. But, because Chris is terrified to talk to her, Chris asks Charlie to help him write to her. Wanting Roxanne to be happy, Charlie is inspired by his own love for Roxanne and writes 3 beautiful love letters to her, signing Chris's name. However, Chris can't live up to Roxanne's high expectations, because everything that comes out of his mouth in her presence is either vulgar or not understandable. Chris decides to run off with a cute waitress, a woman who doesn't make him nervous. Will Roxanne see who really loves her?
Steve Martin is a delight as the kind-hearted, Charles Bales, the competent romantic fire chief with the impossibly long nose. Martin has the physical grace of the best of the silent comedians, playing a character it's impossible to not like. In between the poignant moments, Martin has some hilarious comedic bits as well. Don't miss the bar scene. When a tough guy mocks his big nose, Martin chides him for lacking verbal imagination. He gets the bully to throw a dart at the dart board, and whatever number the dart lands on, is the number of jokes Bales will tell about his big nose. Charles has the place in stitches as he comes up with 20 funny one liners!
Daryl Hannah is luminous in her portrayal of Roxanne Kowalski, an astronomy student on the verge of discovering a new comet, and a hard to see love of her life.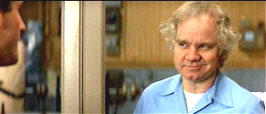 The fine direction was by talented director Fred Schepisi, who also directed such comedic films as "IQ," "The Last Orders," "Six Degrees of Separation," and "Fierce Creatures."
Steve Martin and Edmond Rostand did a terrific job on the script, that is a very funny, entertaining, and touching; a well-done humorous romance, that has many classic scenes, such as the tennis racquet fight sequence. Two guys try to bully and make fun of Bales' nose while Bales is on his way to the tennis courts. Having to deal with bullies all his life because of his nose, this hysterical sequence shows Bales fighting with much aplomb, and defeating them like he is playing a tennis game, in a very creative way.
This film is rated P.G. , and is a great film to watch with the family, with two reservations. There are two instances of implied unmarried sex, because of feelings of love. Nothing is shown, but in one instance, it is briefly talked about. It does have some valuable things to say about being different, having unusual characteristics, and that beauty is only skin deep. What is inside a person is the lasting quality that is the most important.
Quote: "I am in orbit around you."