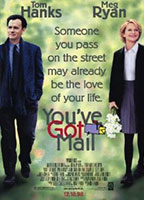 When the owner of a large bookstore chain begins cramping a charming small local bookstore's style, the last thing either of the two would expect is for love to linger in the air. Still, when the two begin corresponding anonymously over the internet, they just may find that, despite their differences in business ethics, the two may have more in common than they initially think. As they continue to spar over bookstore favoritism, their private internet liaison is about to bring the two face to face with an inevitably comical ride to personal revelations.
Directed by Nora Ephron.
Written by: Miklos Laszlo (play "Parfumerie"), Nora Ephron, Delia Ephron (screenplay).
The cast includes: Tom Hanks, Meg Ryan, Parker Posey, Jean Stapleton, Greg Kinnear, Dave Chapelle, and Steve Zahn.
Tagline: "At odds in life… in love on-line." "Someone you pass on the street may already be the love of your life."
---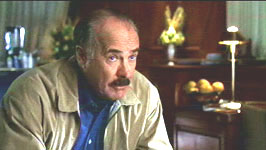 This story is actually a remake of Ernst Lubitsch's "The Shop Around The Corner," and this remake is a magnificent film. Meg Ryan rules the screen in a delightful romantic comedy that makes her an instant adoration of every man's heart, and the sympathetic heroine everyone is rooting for.
Meg Ryan plays an owner-proprietor, Kathleen Kelly, of a children's bookstore that was originally owned by her mother. It is just a little hole in the wall store, but loved by everyone. On the other hand, Tom Hanks' character, Joe Fox, a take-charge kind of guy, is seemingly the villain of the story. Fox owns a monolithic book super store, Fox Books, that is ready to open its newest branch across the street, not caring who he closes down. After all, it is all "just part of the business." While they're enemies in business, however, they don't know that each one is the other's true affection via a confidential long-term email correspondence. Hank's character is the first one to realize that the hostile woman he put out of business, is his beloved E-Mail pen pal, while Ryan's character doesn't have a clue who he really is until the very end of the movie. This information puts Hanks in an awkward, and uncomfortably painful position, to say the least, causing him to do some soul-searching. Can he still have a serious relationship with someone he put out of business?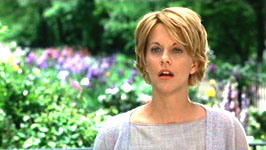 What happens next is the result of a brilliant screenplay, written and directed by Nora Ephron, who also wrote and directed "Sleepless in Seattle" and "Michael."
Some of the best scenes are when they meet each other in person for the first time by mistake, and then again on purpose (both are very interesting turn outs).
How the story ends is a wild and comical ride that you have to take for yourself.