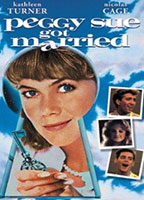 Despite her popular status in high school status, as a 43 year-old mother currently facing a divorce from her adulterous high school sweetheart, Peggy Sue feels anything but on top of the world. As the traditional high school reunion approaches, Peggy Sue finds herself fainting, only to awaken back in her former high school days of yore. With a chance to start over, Peggy Sue undergoes a serious, literal retrospective critique of the decisions she's made that has led her to her problematic life of present. But can Peggy Sue really change the future, or will she still be tempted to make the same decisions/mistakes as before?
Directed by: Francis Coppola.
Written by: Jerry Leichtling, Arlene Sarner.
The cast includes: Kathleen Turner, Nicolas Cage, Barbara Harris, Barry Miller, Catherine Hicks, Kevin J. O'Connor, Jim Carey, and Lisa Jane Persky.
Tagline: "Knowing what you know now, what would you do differently?"
---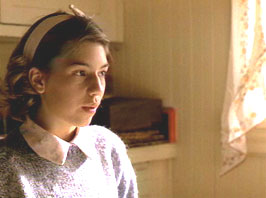 Peggy Sue Got Married – is described as a "humorous, heartfelt fantasy," which gives the character, Peggy Sue, the incredible power to reexperience, reappraise, and possibly change her past, doing all the evaluating through the experienced eyes of a 36 year old woman; which is a golden opportunity that almost all have wished for, at least once. After collapsing at her 25th high school reunion, a heart-sick, 36 year old business woman, about to be divorced from her former high school sweet heart, travels 18 years back in time, where she has an unexpected reunion with her family, friends, & her then sweetheart boyfriend.
Besides having the opportunity to be with her loved ones again, and tell them how much they mean to her, and fully appreciate their love and support of her, she also faces unique time warp opportunities to change the choices she once made, and perhaps alter her present life. Should she still continue in a relationship with Charlie, knowing the future problems their marriage would have, and that he won't be a faithful, stellar husband? Can she help him turn out differently? Should she have a "fling" with the school poet-quoting loner, that she always regretted not exploring? Should she help the school science genius on his way to his future inventions? By the end of the movie, Peggy Sue realizes that individuals alone are responsible for their own destiny, has an appreciation for the events and people in her life, and develops a clear sense of what to change, and what to let stand in her present life.
Kathleen Turner does a marvelous job, playing both the older and younger Peggy Sue, making the transition from a mature, emotionally crushed, but strong 36 year old to a youthful, 17 year old girl, "evoking total audience sympathy at both stages of her life."
Nicholas Cage offers a strong, inciteful portrayal of Charlie, both as Peggy Sue's philandering husband, as well as a very confused teenager, who can't figure out this changed Peggy Sue, who just the other day was his "naive, pure, doting girlfriend, " who was now acting like an experienced, realistic woman of another generation. Cage is also terrific in the teenage singing group, his character was involved in.
This well-written, witty, sharply poignant script, written by Jerry Leichtling and Arlene Sarner is a powerful combination of a comedy, fantasy, and drama, and is a masterpiece, that is perfectly directed by Francis Ford Coppola. The music, by John Barry, really adds to the overall film.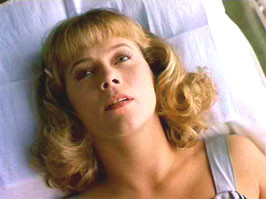 My favorite scenes include the many Cage & Turner moments, Turner's experiences in her classes, Turner's scenes with the genius Richard Norvik, (Barry Miller),Turner's scenes with the grandparents, her friends and family, and the emotional, touching ending.
While watching this endearing , funny film, be prepared to laugh, to reflect & think, and have a box of Kleenex close by.
Music Composed and Conducted by: John Barry. Edited by: Barry Malkin. Production Designer: Dean Tavoularis. Director of Photography: Jordan Cronenweth, A.S.C. Executive Producer: Barrie M.Osborne. Produced by: Paul R. Gurian. Written by: Jerry Leichting and Arlene Sarner. Directed by: Francis Coppola.
If you enjoyed PEGGY SUE GOT MARRIED, you might like the BACK TO THE FUTURE, HIGH FREQUENCY, IT'S A WONDERFUL LIFE, THE FAMILY MAN, and/or GROUNDHOD DAY.