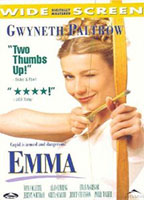 An adaptation of Jane Austen's same-named novel, the film features Emma Woodhouse, a young and congenial beauty who helps herself to playing the role of cupid to family and friends. Still, despite her penchant for match-making she is, nonetheless, quite bad at it; constantly attempting to unite couples that are completely wrong for one another. Likewise, it seems Emma's "astute" interest in romance seems to fall quite short, in deed one might argue it is nonexistent when it comes to her own potential love interests, like say the fetching Mr. Knightly. This charming Romantic comedy is a classic.
Directed by Douglas McGrath.
The cast includes: Gwyneth Paltrow, Jeremy Northam, Toni Collette, Greta Scacchi, Juliet Stevenson, and Sophie Thompson.
Tagline: "Cupid is armed and dangerous!"
---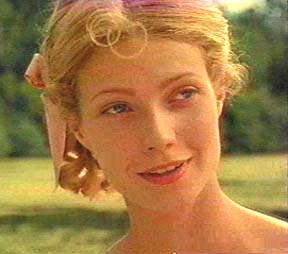 Emma Woodhouse (Gwyneth Paltrow) is a 22 year old, well-to-do gentlewoman, who lives with her elderly, widowed father, Mr. Woodhouse (Denny Hawthorne) on the big Woodhouse estate. Feeling flushed with success after successfully finding her governess, the newly Mrs. Weston (Greta Scacchi) a husband (James Cosmo), Emma eagerly tries to find her common friend, Harriet Smith (played by Toni Collette), a proper husband of means; thus, trying to be a mentor, and guide in this whole process.
This screenplay, based on Jane Austin's novel, "Emma," is charming, well directed and well written by Douglas McGrath, and has a talented cast, who work hard to portray their characters as envisioned in this entertaining screenplay. This ensemble cast also works very well together, giving a convincing rendition of Austin's story, having a lot of fun at the same time.
Gwyneth Paltrow's role as a mischievous, well-meaning matchmaker, who forgets all about her own love interests, is sincere and amusing, as she isn't very good at it, and makes a tangled mess of everyone's lives in the process. The scenes between Paltrow and Collette are well-acted and enjoyable.
Jeremy Northam was perfectly cast as the brotherly Mr. Knightley, the honest "friend" to Emma, who really in fact does love her.
Some of the best scenes are the Paltrow – Jeremy Northam scenes, (Emma & Mr.Knightley). Mr. Knightley is a long-time family friend (about 16 years older than Emma) who is one of her very best friends. Specifically outstanding is the archery scene, (where Mr. Knightley takes Emma to task for what he considers her meddling behavior), the big argument scene, (over Emma's unthinking and unkind comments to the hapless Miss Bates – played by Sophie Thompson), the party scenes, and the romantic ending. All through the movie, the audience is given subtle hints of the affection felt between Mr.Knightley and Emma, even though Emma remains clueless until the end of the movie, of who her own true love is meant to be…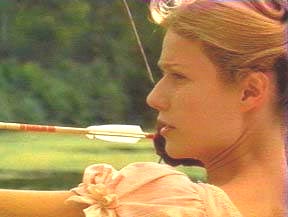 Alan Cumming is convincing as Rev. Elton, the first bachelor that Emma tries to match up with her friend Harriet. Emma was in for a surprise, when Rev. Elton professes his love for her instead. Her troubles increase, when Rev. Elton goes to Bath to recover from her rejection and brings back the new Mrs. Elton to live at the rectory.
Juliet Stevenson is very entertaining as the bossy, snobby, annoying Mrs. Elton, adding sparkle to the plot, as being a thorn in the side of Emma, Harriet, and the governess Jane Fairfax.
Ewan McGregor plays with much aplomb, the handsome and charming, smooth as silk but secretive Mr. Churchill, who is a bit of a gossip, and can sing quite well!
Toni Collette is delightful as the sweet, trusting, innocent Harriet Smith, who eagerly follows the guidance of her well-meaning mentor, Emma.
McGrath captures the look and feeling of the story's time setting, culture, and era, making the film to be delightfully engaging entertainment. The photography, music, art direction, and overall location of the film help this to be a great classic of the classic English movie genre. Jane Austin would be very pleased indeed!
If you enjoyed EMMA, you might like SENSE AND SENSIBILITY, PERSUASION, EVER AFTER, and/or PRIDE AND PREJUDICE.